01:02 AM GMT November 17, 2019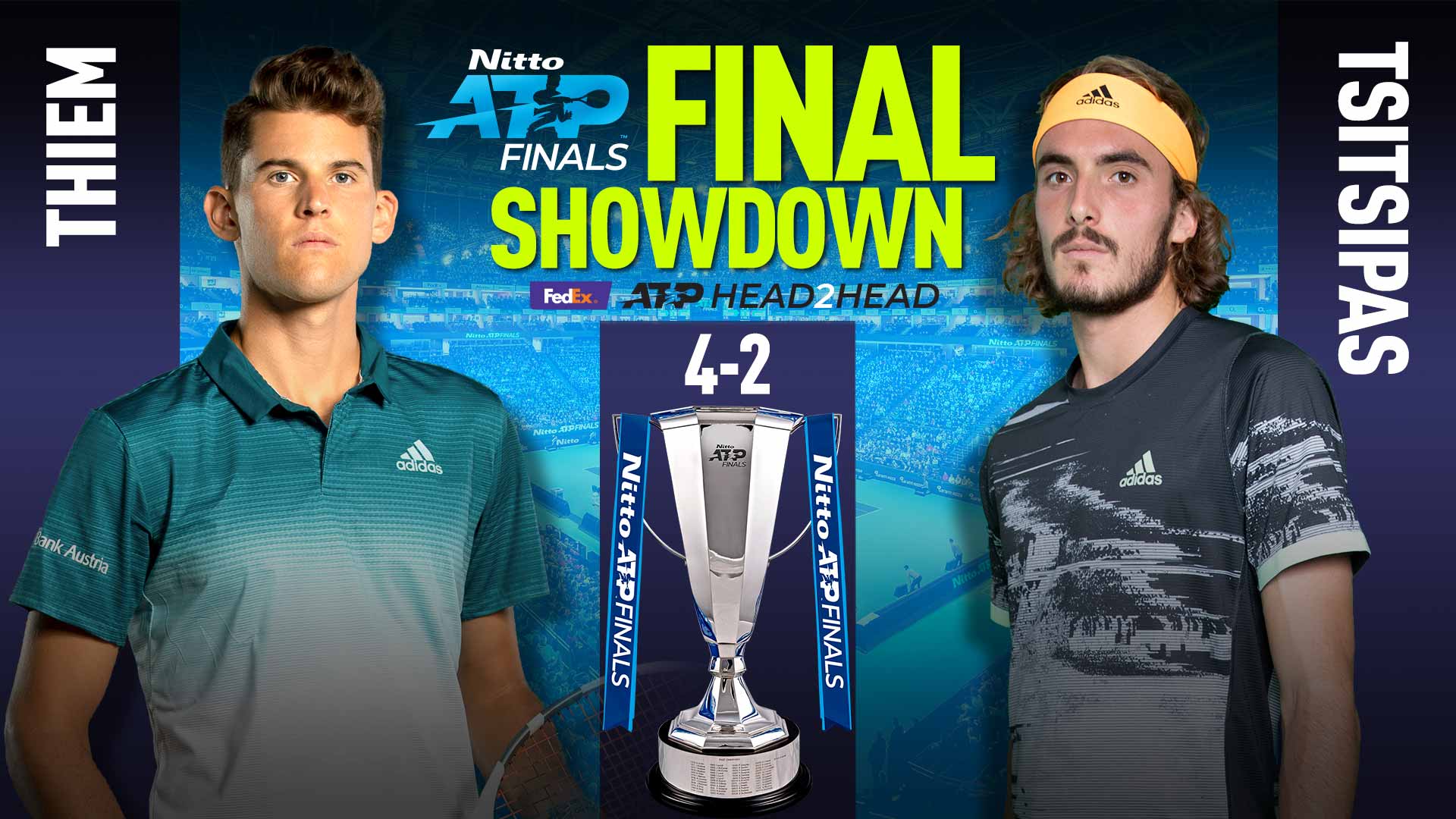 Dominic Thiem and Stefanos Tsitsipas both broke new ground on Saturday at the Nitto ATP Finals by reaching the championship match. Neither could wipe the smile from their face as they began their on-court interviews in front of the London crowd.
"This is just a big, big dream coming true for me," Thiem said.
"I remember myself being one of these kids here, watching the event, and for me it was just, I could never picture myself standing here," said Tsitsipas after eliminating Roger Federer 6-3, 6-4. "But it did happen. Dreams do come true."
They are turning their dreams into a reality. This is a moment both men have been waiting for their entire lives, and for one of them, it will get even better when they lift the trophy at the season finale on Sunday.
"It is one of the best tournaments all year, one of the most prestigious tournaments all year and I'm getting the chance to play the final tomorrow. It's unreal to me," said Thiem, who ousted defending champion Alexander Zverev 7-5, 6-3 in the semi-finals. "To beat the defending champion, a good player, an unbelievable player, this is always a great achievement and I'm very, very happy."
Three years ago, Thiem competed in the year-end championships for the first time. One of his hitting partners was an 18-year-old Tsitsipas, who at the time was in awe of the superstars around him.
"A little bit more and I'll end up playing with all the players from the #ATPWorldTourFinals," Tsitsipas wrote on Instagram to caption a picture of him with Thiem that week in 2016.
"A little bit more and I'll end up playing with all the players from the ATP World Tour Finals."

This was @StefTsitsipas in 2016 as a hitting partner for @ThiemDomi.

Tomorrow, the two will face off in this year's final 🤯

📸: Stefanos Tsitsipas (IG) | #NittoATPFinals pic.twitter.com/kJCv3nyxQr

— ATP Tour (@atptour) November 16, 2019
"Dominic has inspired me a lot to be a better version of myself when I'm out on the court. I see a lot of things that he does on the court, and I try to do the same. Because I have mentioned this before: what Roger does, only Roger does. It's really difficult to copy what you see," Tsitsipas said on Saturday. "So to me Dominic is more... normal, normal in a way that [he brings] something that's possible.
"Dominic has always been someone that I looked up to and wanted always to play with the same intensity and the same will that he puts in the court. He puts in a lot of effort and… I would just describe him as an intense player. If he's in the zone, he can just create so much opportunities with his game."
Thiem leads the pair's FedEx ATP Head2Head series 4-2, with their most recent meeting coming in October's China Open final, in which the Austrian triumphed 3-6, 6-4, 6-1. That was the first time in this rivalry that the player who won the first set did not win the match.
"I just saw a picture before that I practised with him the first time I played here in 2016," Thiem said. "It's [an] amazing story for both of us, because probably both of us, we didn't think that only three years later we were going to face each other in the final."
This is just the second time since 1996 that the championship match at the Nitto ATP Finals will feature two players with one-handed backhands. In 1996, Pete Sampras beat Boris Becker, and in 2006, Roger Federer defeated James Blake.
"That's a very nice fact, because I think there was a time where there were not many players with a one-handed backhand. And now me and also way younger, amazing players like Stefanos or Denis Shapovalov play [with a] one-handed backhand, so we are going to see it for also the next 10, 15 years, which is great," Thiem said. "I think if you play it well like we do, it has a lot of advantages, and also, or maybe especially, indoors because of the slice, because of the many options you have."
One area to look out for will be break point conversions. In the pair's five previous meetings, they both have converted on 40 per cent of their break opportunities. Thiem has broken on 18 of 45 chances, while Tsitsipas has been successful on 14 of 35 attempts. On Saturday, Tsitsipas saved 11 of the 12 break points he faced against Federer, helping him move past the 38-year-old Swiss.
This is the eighth time that both finalists at the Nitto ATP Finals have made it that far for the first time.
If 21-year-old Tsitsipas wins title, he will be the youngest champion at the season finale since a 20-year-old Lleyton Hewitt in 2001. The Greek would become the sixth-youngest champion in the tournament's 50-year history. John McEnroe holds the record for youngest champion, lifting the trophy in 1978, when he was 19. The five youngest titlist's in the event's history all reached No. 1 in the ATP Rankings.
Youngest Champions In Nitto ATP Finals History
| | | |
| --- | --- | --- |
| Player | Year | Age |
| 1. John McEnroe | 1978 | 19 |
| 2. Pete Sampras | 1991 | 20 |
| 3. Andre Agassi | 1990 | 20 |
| 4. Lleyton Hewitt | 2001 | 20 |
| 5. Boris Becker | 1988 | 21 |
Thiem was already the first Austrian to reach the semi-finals of the Nitto ATP Finals, including former World No. 1 Thomas Muster. In his first three appearances, Thiem earned one victory each, and did not reach the last four. Now he will try to claim the trophy in the same year he won his first ATP Masters 1000 title (Indian Wells).
Did You Know?
There will be a fourth straight first-time champion at the Nitto ATP Finals. The last time that happened in the tournament was from 1988-91 with Becker, Stefan Edberg, Andre Agassi and Sampras.
Tags:
Nitto ATP Finals 605

,

Preview

,

Dominic Thiem TB69

,

Stefanos Tsitsipas

,

2019

,