07:45 AM GMT June 10, 2019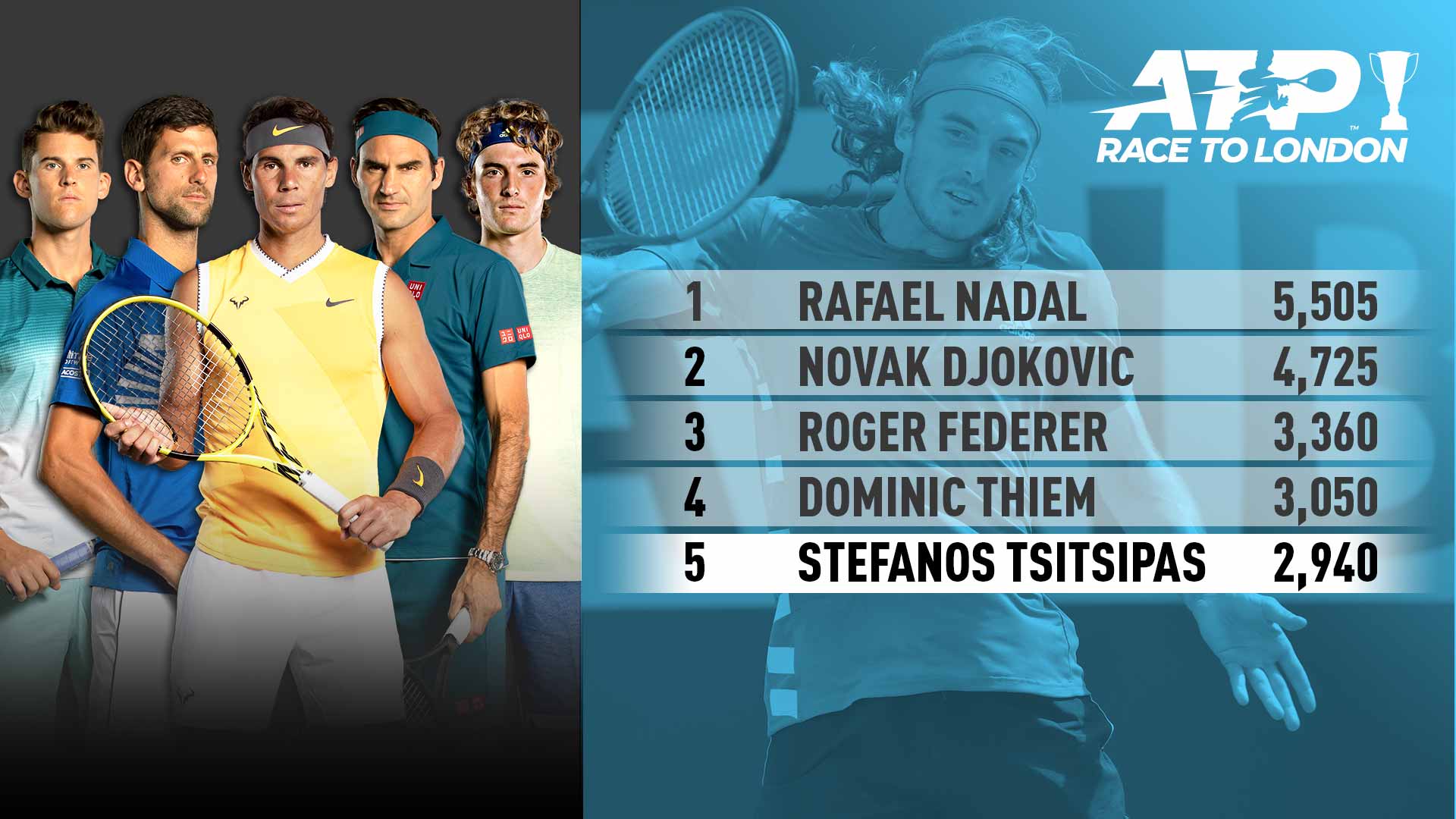 Stefanos Tsitsipas is on course to qualify for the first time to the Nitto ATP Finals, six months on from capturing the 2018 Next Gen ATP Finals title in Milan.
The charismatic Greek sits in fifth position in the 2019 ATP Race To London on 2,940 points, behind established stars: Rafael Nadal, Novak Djokovic, Roger Federer and Dominic Thiem, in the quest to qualify for the season finale, to be held at The O2 in London from 10-17 November. He has a 1,230 points lead over sixth-placed Kei Nishikori.
Twelve months ago, Tsitsipas was in 25th position in the 2018 Race with a 20-15 match record. But six months into the 2019 season and the 20-year-old has compiled a 32-12 match record after becoming the youngest Australian Open semi-finalist since Andy Roddick (also 20) in 2003, and capturing two ATP Tour titles at the Open 13 Provence (d. Kukushkin) and the Millennium Estoril Open (d. Cuevas). Last week, Tsitsipas advanced to the Roland Garros fourth round for the first time .
Nadal, Djokovic and Federer hold down the Top 3 spots in the 2019 ATP Race To London for the first time since 2012 (and the fourth time overall, also 2009-10, '12), while the Top 5 contenders for a spot at the Nitto ATP Finals are also all separating themselves from the chasing pack.
Nadal has taken the lead in the 2019 ATP Race To London, supplanting Djokovic in top spot as a result of a strong end to the spring European clay-court swing. The Spaniard, who beat Djokovic for a ninth Internazionali BNL d'Italia title on 19 May, overcame Thiem on Sunday for an incredible 12th Roland Garros trophy and now has 5,505 points in the year-to-date standings.
Nadal, who trailed Djokovic by 900 points — 2,505 to 3,405 — prior to the ATP Masters 1000 tournament in Rome, is now 780 points ahead following his historic win in Paris. The 33-year-old Nadal is attempting to qualify for the season finale for a 15th straight year (since 2005), while 32-year-old Djokovic, a five-time former titlist, bids to qualify for a 12th time (2007-2016, 2018).
[ALSO LIKE]
View Latest ATP Race To London Standings (as of 10 June 2019)
| | |
| --- | --- |
| Player | Points |
| 1. Rafael Nadal | 5,505 |
| 2. Novak Djokovic | 4,725 |
| 3. Roger Federer | 3,360 |
| 4. Dominic Thiem | 3,305 |
| 5. Stefanos Tsitsipas | 2,940 |
| 6. Kei Nishikori | 1,710 |
| 7. Daniil Medvedev | 1,585 |
| 8. Fabio Fognini | 1,550 |
Federer, a six-time champion at the season finale, competed on clay for the first time since 2016 and has 3,360 points, 55 points ahead of Dominic Thiem (3,305), the Barcelona Open Banc Sabadell titlist and also Roland Garros runner-up. Tsitsipas trails Thiem by 365 points.
The Top 5 are setting the pace in the bid to qualify and fifth-placed Tsitsipas has a big lead over sixth-placed Nishikori, a two-spot riser after reaching the quarter-finals at the clay-court major championship. Russia's Danill Medvedev (1,585), who has a 25-11 match record in 2019, is in seventh position, and Italy's Fabio Fognini (1,550), victor at the Rolex Monte-Carlo Masters — his first ATP Masters 1000 crown — in April, sits in eighth, which is the final automatic qualification spot. Like Tsitsipas, both Medvedev and Fognini are attempting to qualify for the elite event for the first time.
Last year's Nitto ATP Finals champion Alexander Zverev, who advanced to the Roland Garros quarter-finals for the second consecutive year, has moved up one place to ninth on 1,490 points, just 60 points behind Fognini.
France's Gael Monfils (1,320), who lifted the ABN AMRO World Tennis Tournament trophy in February, Spaniard Roberto Bautista Agut (1,215) and Stan Wawrinka (1,130) make up the Top 12 in the year-to-date standings midway through 2019. Swiss Stan Wawrinka, a four-time Nitto ATP Finals qualifier (2013-16), is bouncing back from two knee surgeries in August 2017 and lost to Federer in an entertaining Roland Garros quarter-final. In the latest ATP Race To London standings, Wawrinka has soared 12 spots to 12th position, on 1,130 points.
Tags: