05:15 AM GMT November 24, 2020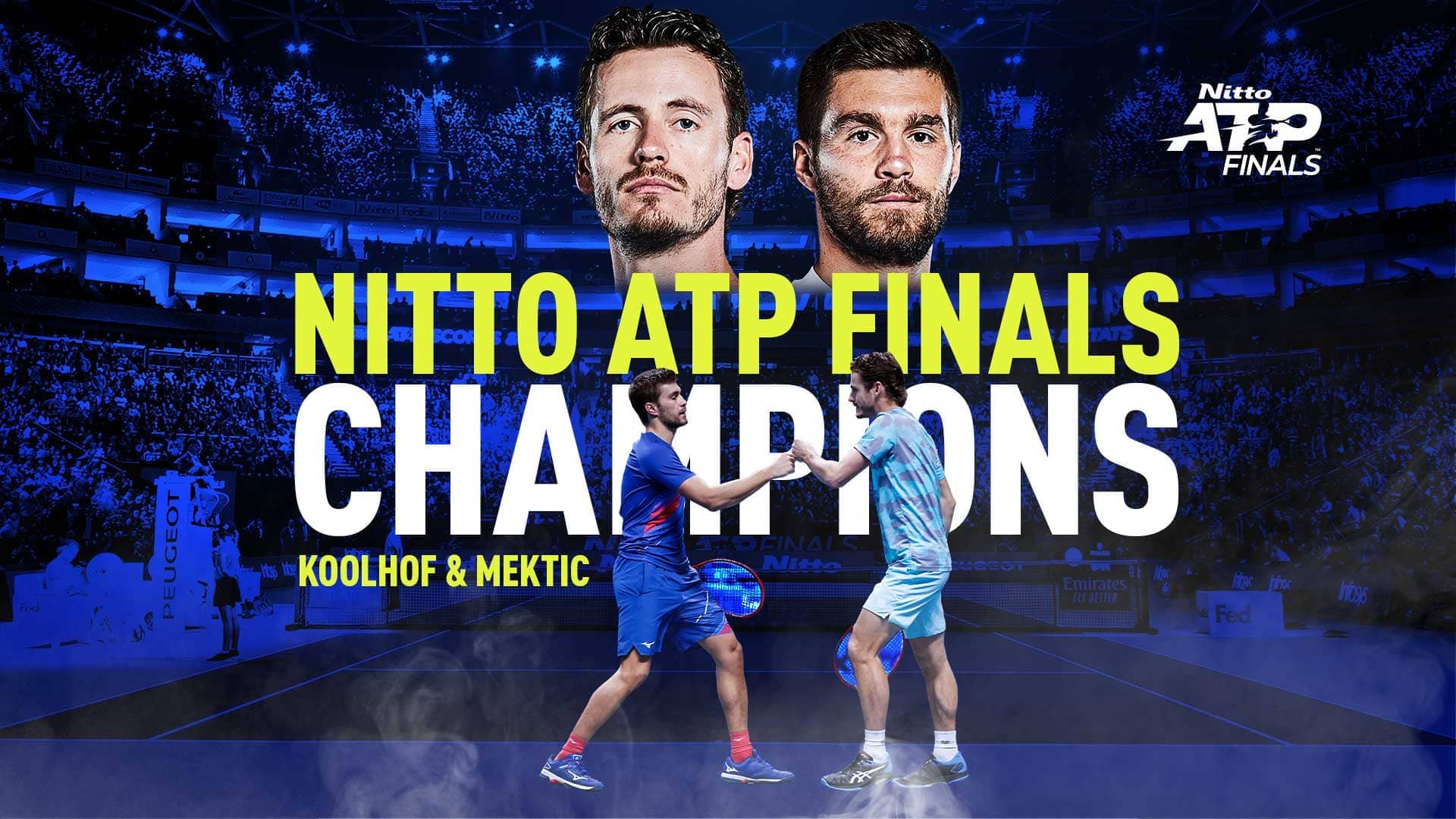 Wesley Koolhof and Nikola Mektic finished their team debut season with their first title on Sunday, as they beat Jurgen Melzer and Edouard Roger-Vasselin 6-2, 4-6, 10-5 to claim the Nitto ATP Finals trophy.
The fifth seeds, who joined forces at the Adelaide International in January, won 61 per cent of their second-serve return points (11/18) to clinch the trophy in 76 minutes. It was a case of third time lucky for the Dutch-Croatian tandem, which lost its first two finals at the Open 13 Provence in Marseille and the US Open earlier this year. Koolhof and Mektic end the season with a 24-13 team record.
"It's [an] unbelievable feeling. It's not just the way to finish this year. This is something to remember throughout the whole life," said Mektic. "This is for sure my biggest achievement of my life and of my career, so this is something that I will remember forever. It's a great way to finish the year and [there are] a lot of reasons to celebrate now."
Koolhof is the fourth Dutch player to win the Nitto ATP Finals doubles crown. The 31-year-old joins two-time champions Jacco Eltingh/Paul Haarhuis (1993, '98) and Jean-Julien Rojer (2015) in the exclusive club. Mektic is the first Croatian to capture a trophy at the season finale.
"Paul and Jacco were one of the best, maybe the best doubles team, before the Bryans started playing," said Koolhof. "I think they achieved so many things and it is always nice when you walk to Centre Court here to see their names on the wall two times and even Jules Rojer is up there. He was always the one, especially in my era, that I looked up against to try to beat him. He was always No. 1 in Holland. It means a lot that I am [alongside] those three big names in Holland and that I am the last one."
One of the key features of Koolhof and Mektic's title run at The O2 has been the consistent success they have found on their returns. The pair continued that trend in the opening game of the match, as Mektic ripped a forehand return winner down the line to break serve. Koolhof and Mektic fired low returns at 3-1 to earn a double-break advantage and clinched the set with a love service hold.
Melzer and Roger-Vasselin earned the first break of the second set, as Roger-Vasselin extracted volley errors with aggressive play from the baseline. The St. Petersburg champions held three service games with relative ease to force the final to a Match Tie-break.
In the Match Tie-break, Mektic took the initiative to make the crucial difference. The Croat connected on multiple returns and played with composure at the net to reach 9/5. On the pair's first championship point, Melzer struck a double fault to end the match.
"[It is] a dream come true to have qualified here for this event," said Koolhof during the trophy ceremony. "[We] managed to play some very good tennis, made it through the group stage. Won yesterday, played a very good match yesterday. Played here the final today, which is always a dream, to play every final. But to play the final of the [Nitto ATP] Finals is very big and [we are] extremely happy to have won."
Melzer and Roger-Vasselin were also attempting to lift the trophy on their team debut at the season finale. The pair topped Group Bob Bryan with a 2-1 record and rallied from 1/7 down in a Match Tie-break to defeat Rajeev Ram and Joe Salisbury in the semi-finals. Melzer and Roger-Vasselin end their 2020 ATP Tour season with a 26-15 record, highlighted by their title run at the St. Petersburg Open.
"It was a hell of a ride. We have been fighting hard since Roland Garros, played almost every week to get here and then coming to the Nitto ATP Finals is a great achievement," said Melzer. "Of course it stings today, and it hurts, but in the end we're going to look back at being runners-up here. The Nitto [ATP Finals] is the pinnacle of our sport. Every player wants to be part of this event. I was lucky enough to make it three times and I will always look back and cherish this moment."
Koolhof and Mektic, who ended the tournament with a 4-1 record, collected 1,300 FedEx ATP Doubles Team Ranking points and split $254,500 in prize money. Melzer and Roger-Vasselin earned 800 points and shared $184,500.
"Thanks Jurgen for this great year. [It was our] last match together today," said Roger-Vasselin. "We wish we could have the other trophy, but it was a long, long journey to come to London and get to the final. Maybe after a couple of days I will realize it was a good week. But right now, it's painful."
Did You Know?
Ten of the 15 doubles matches at The O2 this year required a Match Tie-break.