01:01 AM GMT November 17, 2018
Four months ago, Novak Djokovic and Kevin Anderson met on Centre Court at Wimbledon with a Grand Slam trophy on the line.
At No. 21 in the ATP Rankings, Djokovic was aiming to lift his first major trophy in over two years, while Anderson was appearing in his second Grand Slam championship match in less than a year, following a marathon six-hour, 35-minute semi-final win over John Isner.
The day belonged to Djokovic, who lifted his 13th Grand Slam title in straight sets to rise back inside the Top 10 of the ATP Rankings. Since then, the 31-year-old has been virtually unstoppable.
Now, back at the top of the ATP Rankings, Djokovic has made swift progress through his opening three matches at the Nitto ATP Finals. The World No. 1 topped Group Guga Kuerten with a 3-0 record, beating Isner, Alexander Zverev and Marin Cilic without dropping a set.
Assured of finishing the year as the World No. 1 for a fifth time, Djokovic will be hoping to join Roger Federer by lifting a record-tying sixth Nitto ATP Finals trophy on Sunday. This is the sixth time Djokovic and Federer have reached the semi-finals in the same year (2010, 2012-15 and 2018). On each of those previous five occasions, one of the two has on to win lift the title.
Anderson, who is the first African to advance beyond round-robin play at the elite eight-man event, continues to break new ground. The Wimbledon runner-up is just the sixth man to reach the last four on his debut since the event was first hosted at The O2 in 2009.
Semi-finalists On Nitto ATP Finals Debut (Since 2009)
Year
Player
2018
Kevin Anderson
2017
Grigor Dimitrov (Champion)
2017
Jack Sock
2014
Kei Nishikori
2013
Stan Wawrinka
2009
Robin Soderling
"[Kevin has been] playing some big tennis throughout the entire year," said Djokovic in his on-court interview. "This is definitely his best season. Actually, in the past couple of years he has been playing his best tennis.
"He has continued doing that throughout this tournament. He had a really dominant win against Nishikori and he lost last night to Roger, but he is playing well. He is serving very well and he is aggressive so, I know what to expect."
After breaking into the Top 5 in the ATP Rankings for the first time after reaching the Wimbledon final, Anderson has also continued to impress in the latter stages of 2018. The World No. 6 recently lifted the biggest title of his career, indoors at the Erste Bank Open 500, last month and will be eager to notch his first victory over Djokovic since their maiden FedEx ATP Head2Head meeting at the 2008 Miami Open presented by Itau.
"[Novak] is playing amazing tennis," said Anderson. "Obviously he's really established himself back to the top of the game. [It is a] great, great opportunity for me.
Anderson made an impressive start to his debut in his opening two matches at The O2, defeating Dominic Thiem and Kei Nishikori in straight-sets. The Vienna champion entered his final group match against Federer having already qualified for the last four, but could not complete the group stage unbeaten as the Swiss notched a straight-sets victory.
"Obviously [losing to Federer] was tough. [In my] previous two matches I played really good tennis, coming off quite a few weeks where I've been playing better and better," said Anderson. "[It is] nice I have [Friday] to resettle... [I am] really looking forward to coming back on Saturday, picking things up again."
Djokovic and Anderson have both provided plenty of entertainment for the crowd at The O2 in London. With a place in the championship match on the line, at prime-time on a Saturday night in the English capital, we may see a new record set in the Infosys ATP Fan Meter standings. On five occasions during round-robin play, the decibel levels around Centre Court have reached 106 dB or higher, an almost identical reading to concerts held at the famous venue in North Greenwich.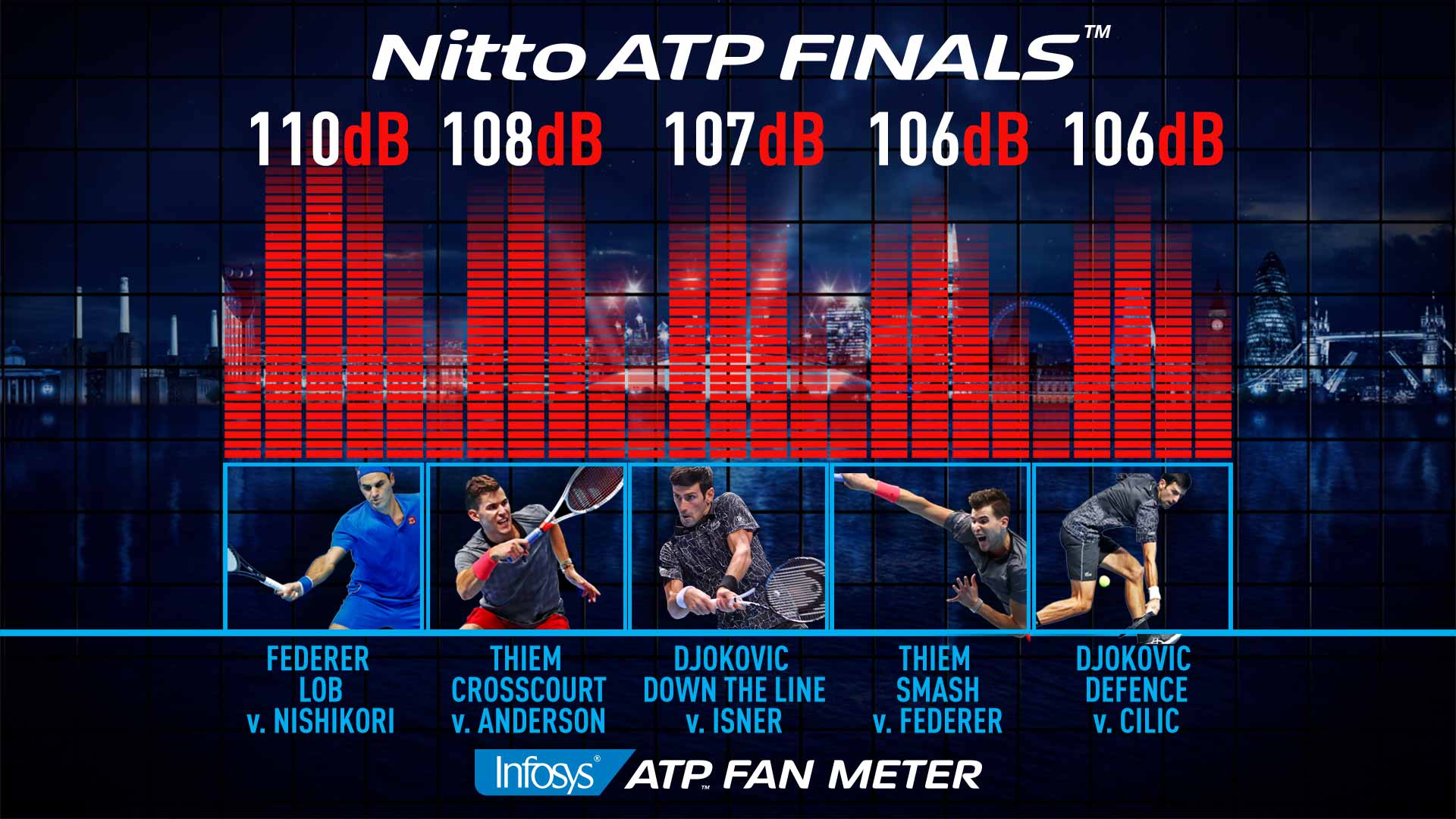 It will be a tough task for Anderson to earn just his second win over Djokovic on Saturday. Since winning their first encounter in Miami 10 years ago, Anderson has managed to win two sets in seven clashes against the 72-time tour-level champion. Anderson led Djokovic by two sets to love across the city at Wimbledon in 2015, before Djokovic recovered in five sets en route to the title.
But Anderson can take heart from his performances in recent weeks and, in his most recent meeting against Djokovic at the Rolex Shanghai Masters, just one break of serve separated the two rivals at the quarter-final stage. With each of the four top seeds still in the running for the trophy, matters will not get any easier for the victor of Saturday's semi-final.
This year marks the first time since 2014 that the top four seeds have all advanced beyond the group stage. Djokovic or Anderson will meet third seed Zverev for the title on Sunday.
Did You Know?
Djokovic owns a 6-1 record in semi-final matches at the Nitto ATP Finals. Only Federer, in 2010, has ended the World No. 1's hopes of claiming the season-finale crown at the last-four stage.
Tags:
Nitto ATP Finals 605

,

2018

,