07:02 PM GMT November 11, 2013
David Marrero and Fernando Verdasco became the third all-Spanish team to lift the doubles title at the Barclays ATP World Tour Finals.
The sixth seeds defeated top seeds and three-time former champions Bob Bryan and Mike Bryan 7-5, 6-7(3), 10-7 in one hour and 44 minutes on Monday night at The O2 in London.
"It was a special victory," said Verdasco. "We're going to go I think to a Spanish restaurant in South Kensington to enjoy the win with our family and friends.
"You don't win a tournament like this every day. I am really going to try to enjoy it. I think it's the best way to go on holidays."
Marrero and Verdasco follow in the footsteps of 1975 champions Juan Gisbert and Manuel Orantes and last year's titlists Marcel Granollers and Marc Lopez by breaking a three-match losing streak against the Bryans.
The duo shared $335,500 in prize money and 1,300 Emirates ATP Rankings points, while the Bryans - five-time finalists – split $195,500 and 800 points.
Andre Silva, the Tournament Director of the Barclays ATP World Tour Finals, presented Marrero and Verdasco the trophy in an on-court ceremony ahead of the singles final between Rafael Nadal and Novak Djokovic.
At 4-5, Verdasco recovered from a 0/40 deficit by combining with Marrero to produce one unreturned serve and three volley winners in a big service hold.
In the next game, Mike Bryan double faulted at 30/30 to gift two break point opportunities to Marrero and Verdasco. Though Mike Bryan saved the first by striking a backhand crosscourt winner of a Verdasco backhand, Verdasco's powerful forehand did the damage on the second as Bob Bryan volleyed long.
Verdasco celebrated the service break, while Marrero collected his thoughts in order to clinch a hold to 15 that wrapped up the 41-minute opener. The Bryans walked to their chairs rueing the fact that they had not converted any of their five break point chances.
The Spaniards failed to convert two break point opportunities in the opening game of the second set on Bob Bryan's serve. At 4-5, Verdasco let slip a 40/15 lead and saved a break point when Bob Bryan could not control a backhand volley off a powerful forehand.
In the tie-break, clever net play by the Bryans helped them take a 4-1 lead as Marrero and Verdasco's ability to pierce their defences was stemmed. When Verdasco served at 3-6, Mike Bryan targeted a forehand return to net-man Marrero only for Bob Bryan to clear up the scraps.
Marrero and Verdasco ended the 50-minute set having failed to convert four break point chances.
Marrero grew in stature in the Match Tie-break, none more so than on the second point when he ripped a forehand winner down the line. In changing their formation tactics on every point, Marrero and Verdasco kept the Bryans guessing – shifting from playing one up and one back to mixing up direction and speed of their service returns.
The pair led 4-1 and grew in confidence as the Bryans battled in an attempt to win a 12th title in their 15th final of the year. At 9-7, Verdasco hit a kick serve out to Bob Bryan's backhand which sailed wide.
Verdasco fell to the ground in celebration, while Marrero smiled and looked to their family in the players' box.
"It shows how much they value that win and how big it was for them," said Mike Bryan. "I thought it was pretty good tennis. We didn't play poorly. They came up with the goods, especially when it mattered. They went for broke… hitting those forehands, like overheads.
"We could have done a few things different. All in all, [when] you get down to a Match Tie-break, which we've been playing all week, you're dancing with the devil. It didn't go our way there at the end."
Marrero and Verdasco went 4-1 in matches this week, suffering their only loss to second seeds Alexander Peya and Bruno Soares 6-3, 7-5 in round robin play.
They complete their 2013 season with a 37-18 match record, which includes one title – their fifth overall – at the St. Petersburg Open last month (d. Inglot-Istomin). They are also 14-6 in Match Tie-breaks this year.
The Bryans, who contested five Match tie-break matches during the prestigious tournament, end the best season of their 16-year pro careers with an 11-4 record in finals, which includes lifting trophies at three of the four major championships.
The American twins, who have finished the year-end No. 1 duo in the Emirates ATP Doubles Team Rankings for the ninth time in the past 11 years, completed 2013 with a 70-13 match record.
"It's going to be tough to better this year – 11 titles: we won five Masters Series and three [Grand] Slam," said Mike Bryan. "We'll take a year like this every year.
"We can improve things. We're always finding new things to work on. We like to keep raising our level as we get older. We'll have the 100 title mark on the horizon. We'd love to shoot that down next year."
Bob Bryan said, "When we put the racquets down, we'll definitely know we gave it everything, we rung every last drop out of this tour. Our minds have stayed focused on that prize from day one. We've never once had a lapse in our energy and in our focus. That means not going out and partying. There's a lot of sacrifices that you make. But it's definitely worth it."
The Bryans dropped to a 29-17 record at the season finale, which includes title runs in 2003 (d. Llodra-Santoro), 2004 (d. W. Black-Ullyett) and 2009 (d. Mirnyi-Ram). They also reached the 2008 final (l. to Nestor-Zimonjic).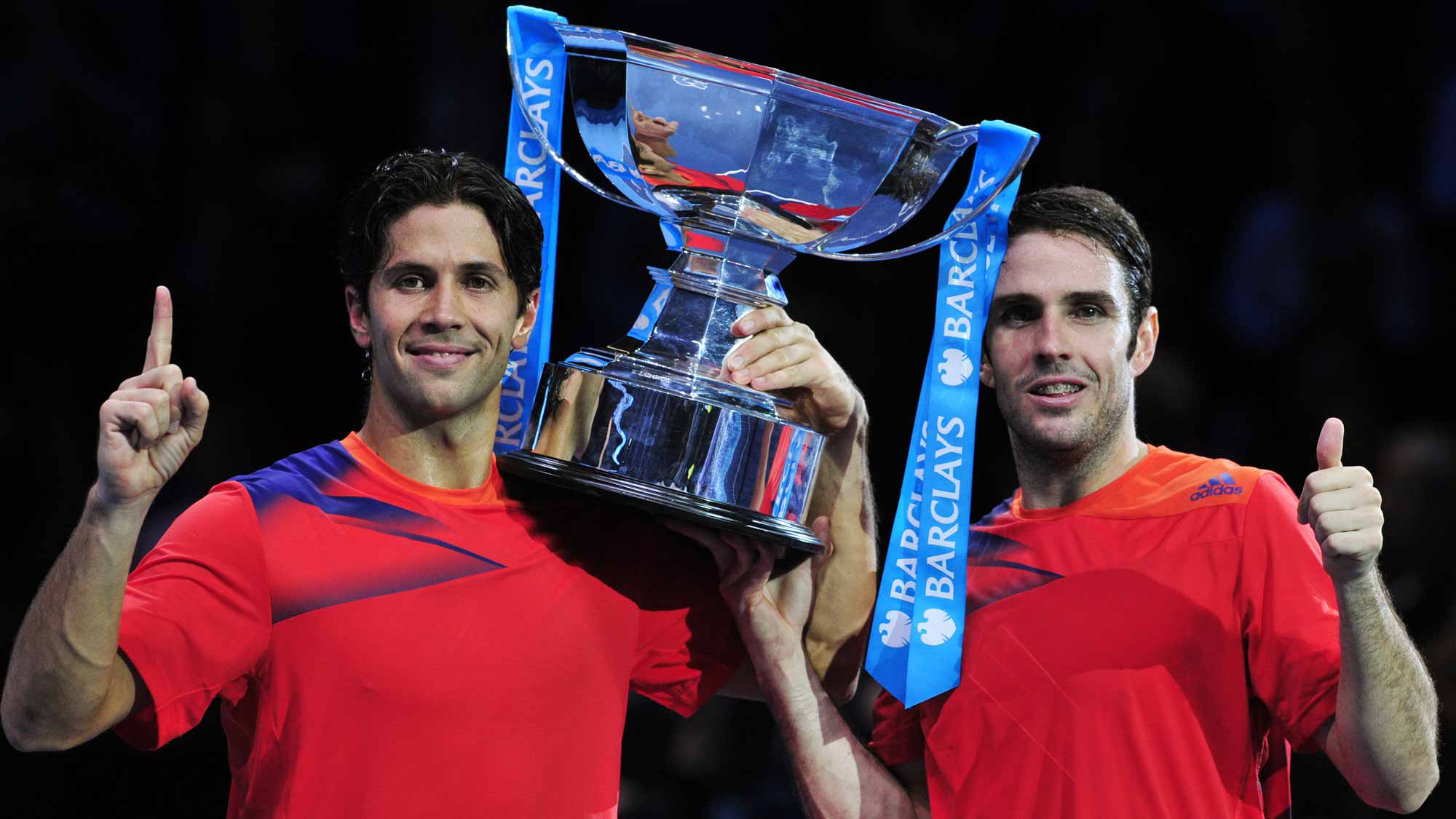 Tags:
Bob Bryan

,

Mike Bryan

,

David Marrero

,

Fernando Verdasco

,

Doubles

,