05:14 PM GMT November 18, 2018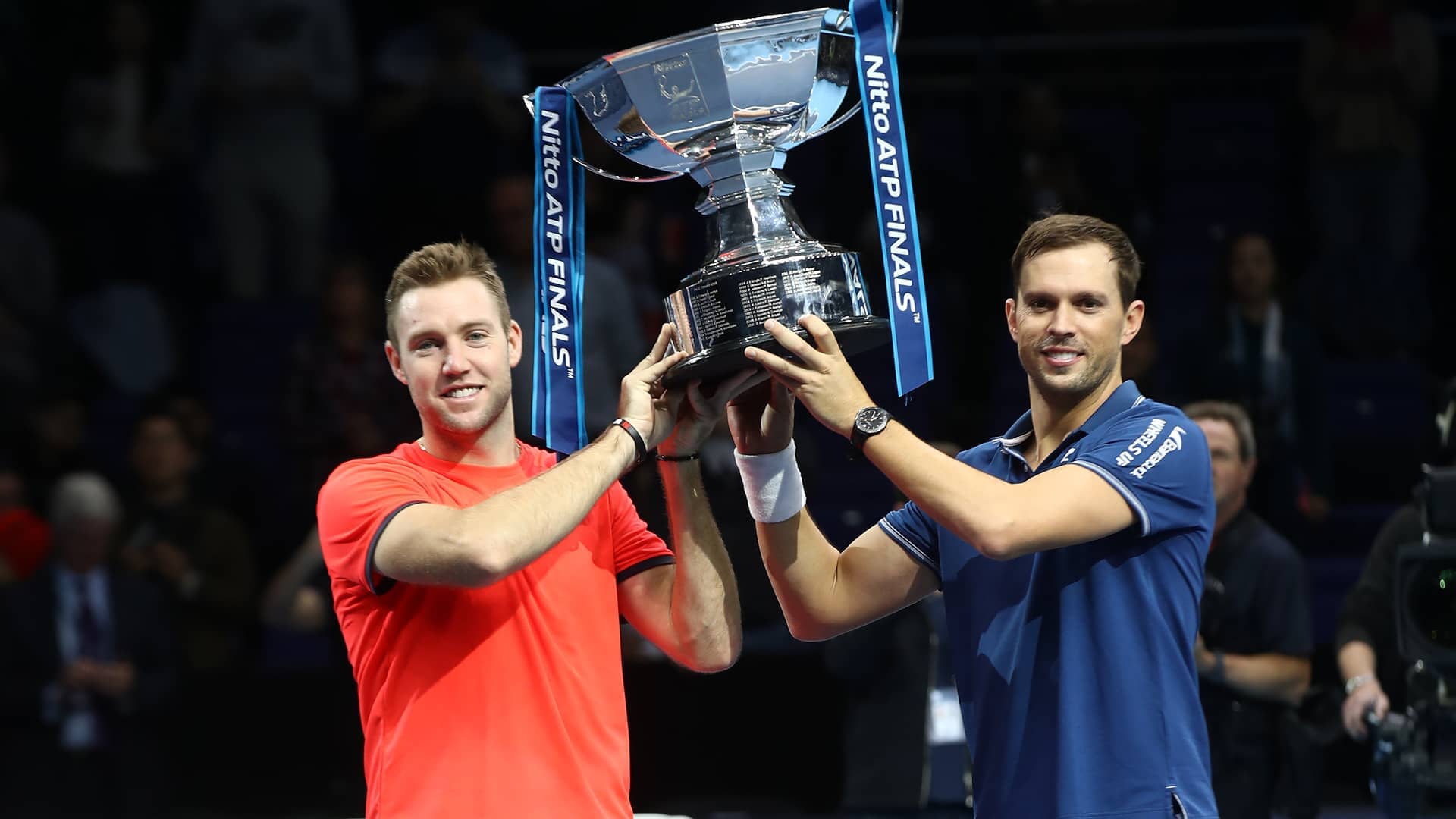 After beginning their partnership across the city at the Fever-Tree Championships in June, Mike Bryan and Jack Sock ended their season in style in South East London at the Nitto ATP Finals on Sunday. The American duo, who end the season with a 20-6 record, saved one championship point at 10/11 in the Match Tie-break to beat Pierre-Hugues Herbert and Nicolas Mahut 5-7, 6-1, 13-11 in just over 90 minutes.
"This is how you want to start a partnership and end one," said Bryan "To win here is just an epic experience. To finish a great year off the right way, winning here, against some of the best teams in the world. The way we did, it went down to the wire. It was pretty exciting.
"[I have had] unreal memories with Jack this year. We're kind of closing the book on our partnership because Bob is coming back. But we're always going to be great friends and hang out in the off-season. We're going to spend the off-season together training."
Bryan and Sock have lifted three trophies in just eight events as a team, adding the Nitto ATP Finals crown to Grand Slam trophies at Wimbledon and the US Open. Earlier this season, the American duo became the first team to win Wimbledon and the US Open in the same season since Jonas Bjorkman and Todd Woodbridge in 2003. Bryan, who becomes the oldest champion in tournament history (40), improves to 5-2 in championship matches at the season-finale, having previously reached the final on six occasions alongside brother Bob Bryan.
"At 40 you really appreciate these moments a lot more," said Bryan. "You're looking around trying to soak in as much of these great feelings as possible because you don't really know if you're ever going to feel that feeling again. This is all unexpected. At 40, to win two Grand Slams and finish the year like this is totally a thrill."
The American duo were presented with the title by Hideo Takasaki, President, CEO and COO of Nitto. ATP Executive Chairman and President Chris Kermode handed Herbert and Mahut the runner-up trophies.
"For me, this is special," said Sock. "Big thanks to Mike for the phone call earlier this year to play. Honestly, all these moments are for Bob. I've known these guys for a long time, we are very good friends. I know he has been watching everything... This is for you Bob, I hope you are watching and I'll see you guys in the off-season."
In a first set which featured six deuce deciding points in 12 games, small margins decided the outcome. Mahut and Herbert appeared to make the crucial move at 3-3, breaking serve with a perfectly weighted lob from Mahut, but Bryan and Sock quickly responded.
With a driven backhand return, Bryan earned his team a fifth break point of the set, which they converted, courtesy of a double fault from Mahut. Herbert and Mahut soon re-established their advantage, breaking serve for a second time at 5-5 after inspired returning, before saving three break points from 15/40 down to clinch the set.
A series of uncharacteristic errors from Herbert gifted Bryan and Sock a 2-0 lead in the second set. With strong serving, the Americans maintained that advantage and soon extended their lead with a second service break in the sixth game as Sock continued to create problems for Herbert and Mahut with his forehand.
With a Match Tie-break required to decide the outcome. A series of mini-breaks early in the title decider placed Bryan and Sock one point from victory at 9/5. But Herbert and Mahut battled their way back, saving four championship points to reach 9/9. The Frenchmen soon held a championship point of their own at 11/10, but after Bryan held firm at the net, the Wimbledon and US Open champions eventually claimed the title as Herbert fired long on his second serve.
"This one was wild. We've been playing these Match Tie-breaks for over 10 years," said Bryan. "We've seen it all... We were up 9/5, they started creeping. They won one point on my serve, one on Jack's serve. All of a sudden we're down championship point. Yeah, that's the way it goes."
You need a little bit of luck to win these matches. The margins in doubles are so fine when you're playing against the best teams in the world. A break point here and there. Sometimes Match Tie-breaks are coin flips when you're playing those. I feel lucky. We played some of our best tennis today. I think we saved the best for last, because you have to from that team. They don't back down."
Herbert and Mahut, who entered the tournament with two wins from eight matches at The O2, have compiled a 23-11 tour-level record this season. The eighth seeds were bidding to become the first French team in 13 years to lift the trophy at the season-ending event. Earlier this year, Herbert and Mahut lifted titles at the AMN Amro World Tennis Tournament and Roland Garros.
Having ended Group Knowles/Nestor with a 2-1 record, Bryan and Sock receive 1,300 ATP Doubles Rankings points and will share $479,000. Herbert and Mahut earn 800 points and split $279,000.
Did You Know?
Bryan becomes the sixth player in tournament history (since 1970) to win Nitto ATP Finals crowns with at least two partners.
Tags:
Nitto ATP Finals 605

,

2018

,