MATCH PRIVATE SUITE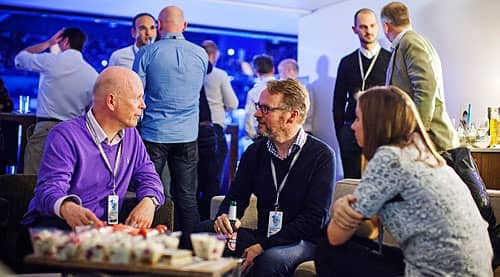 A MATCH Private Suite at the Nitto ATP Finals allows you to entertain your guests in the heart of the action. This intimate and relaxed environment is perfect for private celebrations or for entertaining corporate guests. Your MATCH Private Suite includes complimentary drinks at the bar and a selection of gourmet dishes served by your own dedicated hostess.
Your Package Includes
Your own Private Suite with an exceptional view
Suite capacities for 15 or 18 guests (up to 6 additional bar stool seats available for purchase at pro rata rate)
Complimentary wine, beer and soft drinks
Four-course gourmet buffet
Exclusive menu designed by top British chefs
Dedicated hostess, steward and concierge service
Official event programme and commemorative gift
Parking at the arena upon request
Afternoon, evening, full day packages
Itinerary
AFTERNOON SESSION*
10.45 Suites open
11.00 - 13.30 Lunch
12.00 Doubles Match
14.00 (NOT BEFORE) Singles Match
16.00 Bar closes
16.15** Guests depart
EVENING SESSION*
16.45 Suites open
17.15 - 19.15 Dinner
18.00 (17:45 FRIDAY) Doubles Match
20.00 (NOT BEFORE) Singles Match
22.00 Bar closes
22.15** Guests depart
FINALS (SUNDAY 17TH)*
14.00 Suites open
14.15 - 17.15 Lunch
15.30 Doubles Final
18.00 (NOT BEFORE) Singles Final
20.00 Bar closes
20.15** Guests depart
*All timings are approximate, subject to the Tournament's discretion and may vary depending on the length of preceding matches.
**In the event that a match finishes later than this, guests will be encouraged to leave promptly.
Visit our website to buy your hospitality packages now. For more information, to arrange a meeting or to book your hospitality packages...
Call us on +44 (0) 20 3763 6130
or email [email protected]
Image courtesy of Jonathan Cole Photography ©MATCH Hospitality AG