Match Lounge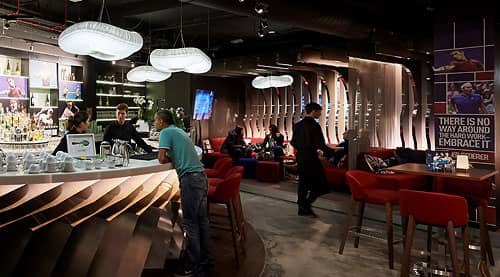 Jump the queue, taking a separate VIP entrance exclusively reserved for MATCH Lounge guests, and make our lounge your base for the rest of the day. Be enticed with an informal dining experience, a premium selection of beverages and a vibrant cocktail bar. When play commences, enjoy the tennis from best available seats in the lower bowl, including an offering of seats in the front row.
Your Package Includes
Best available seats in the Lower Bowl in either block 101, 103 or 115
Within this offering is a limited number of front row seats, located at the front of the lower bowl seating within the arena
Exclusive VIP entrance with direct access to a stylish hospitality lounge
Upmarket tapas menu with flying service and light buffet
Open bar with complimentary wine, beer and soft drinks
Hand crafted cocktails and champagne available for purchase
Afternoon, evening or full day packages
Group Offerings
Book your private lounge and enjoy a comfortable base for your guests during the tournament, including an exclusive bar and a hidden, fully-equipped meeting room.
Exclusive VIP entrance with direct access to your private lounge for groups of 20 – 40 and/or a fully-equipped meeting room for up to 16 guests
Seating, food and beverage offering that can be tailored upon request
Afternoon, evening, full day or final round series packages
To request a tailored offer, please send an email to [email protected] or give us a call on +44 (0) 203 763 6130.
Itinerary
AFTERNOON SESSION*
10.45 Suites open
11.00 - 13.30 Lunch
12.00 Doubles Match
14.00 (NOT BEFORE) Singles Match
16.00 Bar closes
16.15** Guests depart
EVENING SESSION*
16.45 Suites open
17.15 - 19.15 Dinner
18.00 (17:45 FRIDAY) Doubles Match
20.00 (NOT BEFORE) Singles Match
22.00 Bar closes
22.15** Guests depart
FINALS (SUNDAY 17TH)*
14.00 Suites open
14.15 - 17.15 Lunch
15.30 Doubles Final
18.00 (NOT BEFORE) Singles Final
20.00 Bar closes
20.15** Guests depart
*All timings are approximate, subject to the Tournament's discretion and may vary depending on the length of preceding matches.
**In the event that a match finishes later than this, guests will be encouraged to leave promptly.
Visit our website to buy your hospitality packages now. For more information, to arrange a meeting...
Call us on +44 (0) 20 3763 6130
or email [email protected]
Image courtesy of Ben Fisher Photography ©MATCH Hospitality AG